30 Free Animals Vectors
2 weeks ago I posted a thread of 20 stylish animal drawings on 30 inspiring animals. Today I'm going to bring you 30 free animals vectors that you can use for your design. You will find lot of animals silhouette of horses, dogs, birds, giraffes and many more. Enjoy!
1. Hand drawn Animal Vector
2. Dog Vector 1
3. Cute animal vector
4. Special Animal Vector
5. Bird vector set Silhouettes
6. Fish Vector
7. Sea Gull
8. Dogs vector 2
9. Sea fishes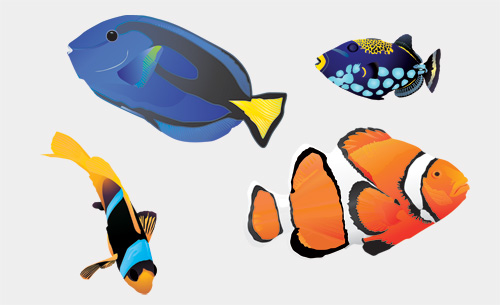 10. Eagle Vector graphic
11. Sharks
12. Horse
13. Jimiyo Animals
14. Animal Silhouettes 1
15. Animal Silhouettes 2
16. Stencil Style Animal
17. Safari and Zoo Animals Silhouettes
18. Origami Animals
19. Animal vector
20. Animal Silhouettes 3
21. Miscellaneous Animal Sihouettes
22. African Animal Set
23. Family of dogs
24. Dog Silhouettes
25. Octopus
26. Animal Vectors 2
27. The Sea Animal Silhouettes
28. Insect Silhouettes
29. Sea life
30. Collection of Birds Silhouettes
Pls visit free vectors for more free vector graphics…
---
Related Articles
See the list of all
Illustrator tutorials
.
Learn
101 Illustrator tips and techniques
for free.
About The Author: Tony Soh
Hi. I'm the founder of Vector Diary. Illustrator is my passion and I have written numerous tutorials on illustrator helping people learn illustrator. My most popular tutorial on learn illustrator has been a hit. It makes learning illustrator so easy and has benefited more than 20,000 people worldwide. Also, I've revealed some of my secret techniques in the premium tutorials. So don't forget to check it out!