Premium Tutorial: Illustrator Rope Brush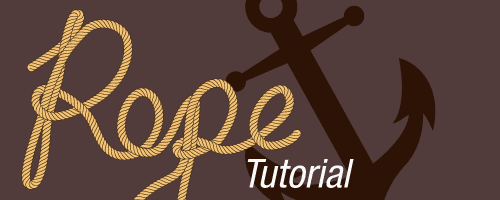 How to Make Rope Brush in Illustrator
Making a rope brush can be very tricky if you are creating from scratch. In this tutorial, I will be showing you my secret technique of making a brush rope easily. Step by step, I will show you how to create the pattern for the rope and move on to making the rope ends. Finally, we will apply the rope brush a path to create a pile of rope.
And when you order today, I'm topping up a bonus tutorial to teach you how to weave a rope text as shown above. Using this technique, you will be able to weave through ship anchors or any objects your like. See more examples below of what you are able to achieve using this technique.

Difficulty:
Intermediate
Requirements:
Adobe Illustrator
What will you get?
Instant download of PDF e-book (13 pages)
Step by step to create a rope brush
Easy to follow with screenshot for every step
BONUS tutorial on creating rope text
Learn how to create start and end tile for brushes
Comes with source file for easy reference
30 days money back guarantee if not satisfied
Tutorial Preview:
16. I will hide the blue box for now. Go to Layers Palette and find your blue box. Click on the eye icon to hide the layer. Here is our final rope. Open up your Stroke Palette (Window>Stroke). Select 3 pt for Weight and select Round Caps for it.
17. Now go Object>Expand to expand it.
18. Open up your Pathfinder (Window>Pathfinder). Hold Alt/Option and click Add to Shape. Change the rope lines from black to dark brown after that.
19. We will now fill the inside with brown color. Draw a brown rectangle and send it to the back of the rope. Select both and open your Pathfinder. Choose Trim and ungroup it by pressing Ctrl/Command+G. Delete the unwanted piece surrounding it and you will be left with the rope.
20. Go to Layers Palette and turn your blue box on again. Select both the box and rope and click Divide from Pathfinder Palette (Window>Pathfinder). By default, it will be grouped after Dividing. Press Ctrl/Command+G to ungroup. Then, delete the unwanted pieces left over by the blue box.
21. This diagram illustrates the different parts for our new pattern brush. The Start tile will appear from the start of the rope. The Side tile will be the part that will be repeated. And the End tile will show up at the end of the rope.
... end of preview. Sign up for premium membership to read the whole tutorial!

---
Related Articles
See the list of all
Illustrator tutorials
.
Learn
101 Illustrator tips and techniques
for free.
About The Author: Tony Soh
Hi. I'm the founder of Vector Diary. Illustrator is my passion and I have written numerous tutorials on illustrator helping people learn illustrator. My most popular tutorial on learn illustrator has been a hit. It makes learning illustrator so easy and has benefited more than 20,000 people worldwide. Also, I've revealed some of my secret techniques in the premium tutorials. So don't forget to check it out!